Ahmed Shehzad fell for 12 runs lbw to Bhuvneshwar Kumar - AFP
BIRMINGHAM: Pakistan's match against arch-rival India resumed after a rain delay with a revised target of 289 runs in 41 over for the men in green. 
Pakistan lost their first wicket when Ahmed Shehzad fell for 12 runs lbw to Bhuvneshwar Kumar. 
The team lost its second wicket in the 13th over when Babar Azam (8) was dismissed by Umesh Yadav.  
Earlier, Pakistan began their chase of 324 in the team's opening match of the ICC Champions Trophy being played at Edgbaston here on Sunday.

Batting first India scored 319 in 48 overs in their innings which was delayed by rain twice. According to the Duckworth-Lewis (D/L) method, the target was adjusted to 324.
Rain stopped play for the first time during the Pakistani innings when the team was 22-0 in 4.5 overs. 
First Innings

Earlier, powerful batting by India skipper Virat Kohli, Rohit Sharma and Yuvraj Singh powered India to 319-3. In the rain-hit match which was reduced to 48 overs, India have set a 324 run target for Pakistan to chase. 
Pakistan bowling was earlier given a breather after a throw by Babar Azam/Sarfraz Ahmed saw Rohit Sharma fall 9 runs short of a century.

India resumed batting at 173-1 (33.1 overs) after rain cleared for the second time during the game, looking in command even after young spinner Shadab Khan earlier gave Pakistan a much-needed breakthrough by breaking the Indian opening partnership with Shikar Dhawan's wicket.
Shadab's strike ended the opening stand of 136, after sure-footed fifties by openers Rohit Sharma and Shikar Dhawan put India in control after play resumed at 46-0 (9.5 overs) as rain cleared after a brief interruption at Edgbaston.

Pakistan bowlers earlier kept Indian openers quiet in the starting overs of the match before rain intervened. Mohammad Amir kickstarted the match with a fiery maiden, after Pakistan won the toss and opted to field against India to begin their Champions Trophy campaign at Edgbaston on Sunday.
But India were soon back in command as Sharma hit a fifty off 71 balls, followed by Dhawan who brought up his half-century soon after.
The two teams are expected to draw a global TV audience of over a billion for their high-octane clash Sunday, in the fourth match of the ICC Champions Trophy 2017. This is the first encounter between the subcontinental rivals in a year, and only the fourth time the two teams are meeting competitively on British soil.
India left out star off-spinner Ravichandran Ashwin and experienced seamer Mohammad Shami from the side that launched their title defence in a 50-over tournament featuring the world´s top eight one-day international teams.
Left-arm spinner Ravindra Jadeja was the lone specialist slow bowler in an India attack also featuring pacemen Jasprit Bumrah, Bhuvneshwar Kumar, Umesh Yadav and Hardik Pandya.
Pakistan left out all-rounder Fahim Ashraf but included 18-year-old leg-spinner Shadab Khan for just his fourth one-day international.

"It is a good pitch and won´t change much," said Pakistan captain Sarfraz at the toss.
"India-Pakistan is a pressure game, hopefully we play a free game," the wicket-keeper added.
India captain Virat Kohli, who on Saturday denied reports of a rift with coach Anil Kumble, was not too concerned at having to bat first.
"It is a pretty good wicket, it will stay even," he said.
"We need a complete performance to win a game of cricket, today is going to be no different," the star batsman added.
'Completely calm'
Pakistan coach Mickey Arthur insisted his side were "completely calm" ahead of their Champions Trophy opener against archrivals India.
Arthur, after seeing Pakistan train Saturday, told reporters at Edgbaston on Saturday: "They have topped their skills up, and they´re ready for a big game.
Sarfraz and Arthur share laughs during a pre-match press conference/AFP
"Our changing room was completely calm. It´s amazing. It´s the outside noise that there is.

"Within the dressing room, it is unbelievably calm, unbelievably focused and very, very excited for the challenge that presents itself (Sunday)."
Young and energetic skipper Sarfraz Ahmad brushed aside all talks of being under pressure before the match against India.
"We are placed at 8th, so we have got nothing to lose from here, so it is India who's under pressure of being the favourite and on-paper strong team," Sarfraz said.
"We have our plans in place, we will go with the best and do some out of box things which you haven't seen us doing against India in the past," he added.
Young all-rounder Faheem Ashraf, who made headlines with his impressive batting in the warm-up game against Bangladesh, is expected to debut against India today.
'Pakistan can surprise opponent any time'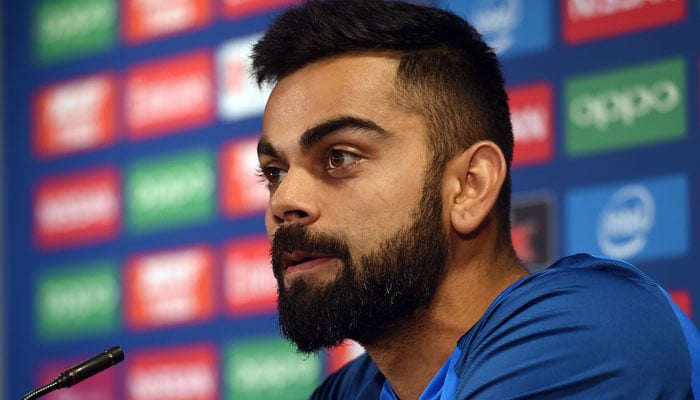 Indian captain Virat Kohli said during a pre-match presser Saturday that Pakistan cannot be taken lightly.
"As a team, I think they can surprise you because you don't play against them so much. You know of their abilities. But you're not too aware of how they react in different situations. All you can do in that situation is focus on your skill," he said.
Numbers crunch
Pakistan and India have faced off on three occasions in the ICC Champions Trophy, with Pakistan having the upper hand with two wins and one loss.
The Green Shirts beat India by 3 wickets in Champions Trophy 2004 and by 54 runs in the 2009 edition of the tournament. India beat Pakistan by 8 wickets in 2013.
Pakistan's Champions Trophy stats
India's Champions Trophy stats

Playing XI
Pakistan
India